Alert: An infant is being sought by Oregon officials. Mariah Nichols, 14-months, is in need of medical attention and her parents are accused of hiding her. The child has been awarded to the state, due to the failure of the parents to cooperate. A DHS child welfare worker visited the home and noticed that there were strange sores on the child's face. The parents of the missing child promised that they were going to take her to Urgent Care. When the DHS worker waited for them at Urgent Care, they canceled their appointment and disappeared.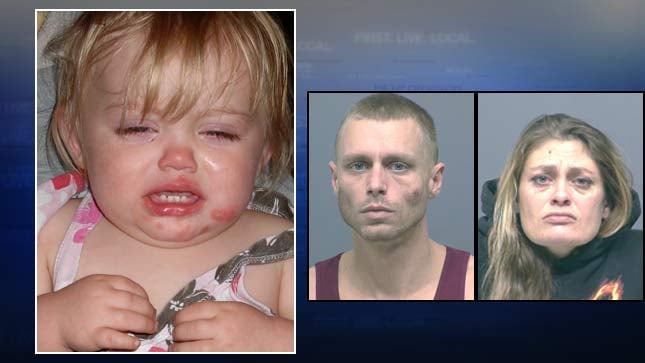 Now Damien Nichols and Dusty Ann Willman are being sought by authorities as is their missing infant — who appears to be in medical danger, not to mention in the care of negligent parents, which is a danger all its own.
If you know where Mariah Nichols is, do the right thing and turn the family in to authorities. It is not wise to harbor people who are believed to be putting a child in danger. If this child is ill, it is only in the best interests of everyone involved to hand her over to the state immediately.
The sores on her face look a little like impetigo, which is a bacterial infection that commonly affects children. It can only be treated with antibiotics. If the family is refusing to have her treated or even diagnosed for her sores, there is obviously some kind of problem that they are worried about — but what? Why wouldn't someone have their child treated for open sores on her face and around her mouth?
Photo: KPTV
~*~ Crime analyst and profiler Chelsea Hoffman is the author of "The Sin City Strangler" & many other works. Contact her privately via the "Case to Case" blog or @TheRealChelseaH on Twitter.~*~