Mary Fickett of All My Children has died. The seasoned actress who was cast as Ruth Martin on the ABC soap opera passed away at 83.
Sadly, the veteran television actress is gone away in the physical form. Even so, the performances she gave during life are memorable. According to a spokesperson from the daytime network, Fickett died at her Virginia home Thursday.
She was one of the original cast members of All My Children when it debuted in 1970. And for decades, she appeared alongside her fictional husband, Dr. Joe Martin, played by actor Ray MacDonnell.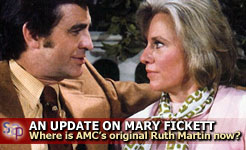 Only three years later, Mary Fickett became the first person ever to win an Emmy for a role in daytime soap operas.
The longtime actress sealed the win after her character in the show Ruth Martin gave a very moving speech about her son's service in the Vietnam War.
However, it was relevant considering the turbulent times that defined the United States during that decade. Nonetheless, the prestigious win paved the way for many actors and actresses, many that went on themselves to win Emmy's.
Although death is typically sad for many people who mourn the passing of a loved one, Mary Fickett lived up to the ripe age of 83. Other people much younger are not so fortunate. Still, her friends, fans, and certainly her family will miss her.
Scoops and spoilers for All My Children were not enough to derail her upcoming performances in the long-running show. She was just that good, even if you knew what she would say or do in the next episode.
Mary Fickett announced her retirement from acting in 2000. She leaves behind a number of grandchildren, a son, and daughter.
Here's a final spoiler: On September 21, ABC and All My Children will dedicate the episode to Mary Fickett. Two days later, the show will formally come to an end after four decades on daytime television.