Miley Cyrus' sex life with Liam Hemsworth is allegedly more exciting than 50 Shades of Grey.
So does the young couple spice things up with handcuffs, riding crops, and nipple clamps? Not exactly – their shared fetish is apparently having sex in strange places.
Miley has earned a "wild child" image by partying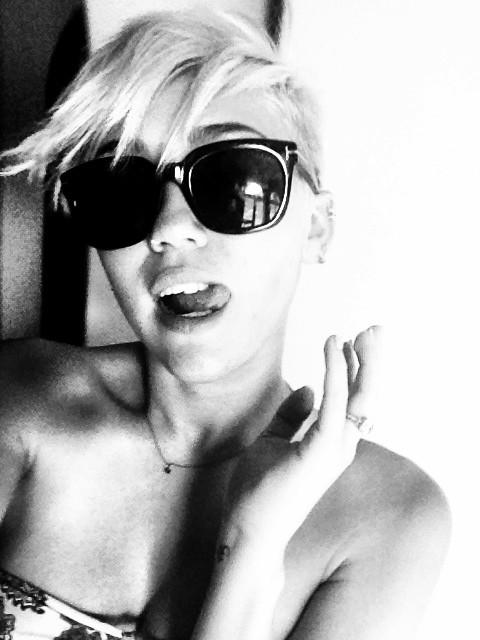 hard; getting tons of tattoos; and rocking an edgy, punk-rock hairstyle. So it's not too hard to believe that she has a kinky side, even if it is The National Enquirer claiming that she has a crazy sex life.
According to the tabloid, their source just happened to overhear the former Hannah Montana star gushing about how great her love life is while sitting near her at a restaurant. Here's what Miley Cyrus allegedly said:
"There's no holds barred…the sex is wild! Liam fulfills all my fantasies, and I fulfill his."
She went on to say that she and Liam Hemsworth like to see who can come up with the craziest places to have sex.
Miley's alleged comments are quite different from what she tweeted just a few days ago – the pop star was complaining about a lack of passion. But it sounds like she and her Hunger Games hottie are always hungry for love.
The paparazzi will definitely take note of this story – you just know that they'll try to snap photos of Miley and Liam getting it on in the car or behind the bushes somewhere.
Maybe the couple has taken a page from the 50 Shades of Grey books with a little love in an elevator, or perhaps they've joined the mile-high club on a nice private plane.
If Miley ever visits Liam on the set of his movie Catching Fire and the two of them disappear, everyone will know what they're up to – they're just trying to add another kinky spot to their list (like a fake train car or mine shaft).
From the sounds of it, maybe Miley could write the next big erotic novel if her movie and music careers don't work out.