Is North Korea in "secret talks" with high-level U.S. officials? A report claims that senior officials "shuttled between Guam and Pyongyang on April 7, 2012, and then again from Aug. 18 through Aug. 20 last year."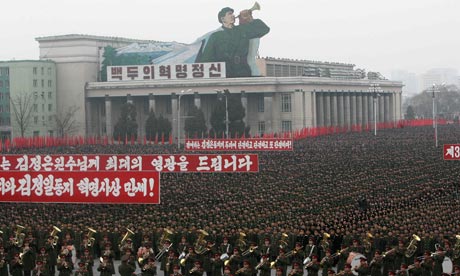 Fox News reported that following the death of Kim Jong Il, The Asahi Shimbun learned that the talks were detected by Japan, who "only learned about the flights after receiving reports from hobbyists monitoring activity at military bases and also analyzing air traffic flight plans."
When the Japanese government inquired about the visits with the U.S. State Department, they were "warned…against inquiring further, saying Washington-Tokyo ties could be damaged." One would think that as long as Washington is transparent regarding its communications with the loony regime, there should be no concerns about foreign relations.
President Obama mentioned the Democratic People's Republic of Korea by name in the recent State of the Union Address, warning that "provocations…will only isolate them further," referring to their ongoing nuclear tests and direct threats to the United States, making clear that their "long-range rockets are designed to carry warheads aimed at striking the US," as reported by Al Jazeera.
Oddly, North Korea doesn't seem to be fazed over sanctions or international pressure; as they posted the following bizarre video on their YouTube page which depicts the American Flag burning. Another video, a clip that features President Obama with engulfed in flames seems to have been removed.
Watch the video here:
Additionally, the Guardian has reported that the loony regime has just threatened to destroy South Korea with "final destruction." Ironically, this threat occurred during a debate at the UN Conference on Disarmament.
Image source: Xinhua/Landov/Barcroft Media via the Guardian