Tomorrow marks a year that Lisa Irwin has been missing from Kansas City, Missouri, and officials have recently declared that the mother of the missing baby is the only one who knows what happened. Still, on this year anniversary of the girl's disappearance, her mother and father bought her clothes and gifts in honor of keeping hope that she's alive. At least that's what their lawyer is telling the media — do you believe them?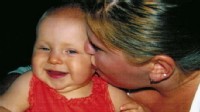 John Picerno says that Deborah Bradley and Jeremy Irwin have kept Lisa's room intact and have updated it with clothes and things that she would be fitting into now at her age. He also said they're trying to honor her by doing this. Do you believe this attempt at garnering public sympathy?
Kansas City detectives have made it clear that Bradley still isn't being forthcoming with all the information she could be providing in this investigation. If Bradley and Irwin are truly wanting to "honor" their missing daughter, wouldn't being 100% honest to detectives be a part of that?
This is the anniversary of the last time Lisa Irwin had a normal night in her home, with her parents and her half-brothers. Tomorrow will be the one year anniversary that her name blasted across international headlines where it has remained all this time. Will Deborah Bradley honor her daughter during this time of heightened interest and speak one-on-one with detectives like they are still requesting? Or will there be another year of playing investigators along with intricate leads that just seem to never go anywhere?
Photo: ABC News
Crime analyst & profiler Chelsea Hoffman can be found on Huffington Post or Chelsea Hoffman: Case to Case. You can follow her on Twitter @TheRealChelseaH or contact her via her personal blog.