Park Geun-hye has become the first female president-elect of South Korea. Quite an accomplishment in a country with vast gender inequality where women are paid 40% less than men. South Korea is also ranked 108th out of 132 for female representation in politics. Meanwhile, the world's "greatest country", the United States of America, has yet to elect a female president. Wonder if this will convince Hillary Clinton to reconsider her options in 2016.
Park is the daughter of former S. Korean dictator Park Chung-hee. The elder Park was assassinated by one of his own staff and his wife, the new president's mother, was shot in an earlier assassination attempt on her husband. Park's mother was shot by a pro-North Korean gunman. That grudge is likely still there as it would be hard to imagine a young girl forgiving the murder of her mother. So, what exactly are Park's plans for dealing with rival N. Korea? It's no secret that N. Korean officials favored her opponent.
Park is not known for having a warm, pleasant personality. She is nicknamed the "ice princess" by the North Korean media for her cold demeanor and scripted talking points. And yet, she won her country's top spot by saying she "will definitely open an era of peoples' happiness in which everyone can enjoy some simple pleasures and their dreams can come true."
Park Geun-hye is a member of the Conservative party in South Korea. The party politics aren't much different in America. As a conservative she's known to be wealthy and out of touch with the people because she didn't know the minimum wage and an educational foundation that was allegedly forcibly taken by her father was turned over to her. Sounds a bit like Mitt Romney, doesn't it? Rich person with no personality and doesn't know the price of a gallon of milk. Romney and Park would probably be great friends. At least Americans voted against the "ice prince."
And being the offspring of a dictator whose enemies kept trying to assassinate him until they were successful, even if it meant killing everyone in his family, doesn't seem like a plus either.
While a female in the top office seems like a victory for women, it's important to remember that things are not always as they seem.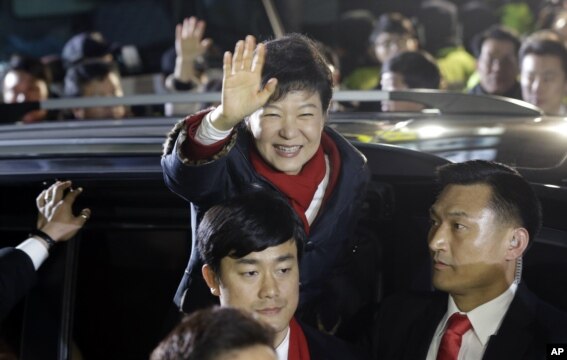 Image Source: AP/Voice of America