Paul Ryan doesn't appear to have been the best choice of running mate for ol' Mittens Romney. The latest polls aren't showing him in the best light. In fact, he's less popular than Sarah Palin, Dick Cheney and Dan Quayle. That's s saying quite a lot seeing as though Palin and Cheney are among some of the most hated people in the world — and for damn good reason. So what could this mean for November? Well if you're a realist, it probably means that President Obama is going to remain President of the United States for the next four years. How about a sigh of relief and a giggle for those on the right who might be throwing their votes away?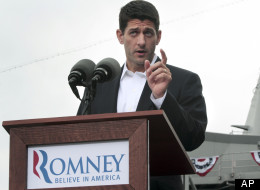 A recent Gallup Poll indicates that Paul Ryan is not viewed favorably by at least 42% of potential U.S. voters. That number is rather low considering Sarah Palin was viewed unfavorable by only 37% of U.S. voters in 2008 — and you know how that election turned out, right? In fact, Ryan's approval is lower than any VP approval ratings in the 2000s, and is nearly as unfavorable as Dan Quayle who had a 52% unfavorable rating in 1988.
So what does that say for the Ayn Rand idealizing congressman? Who knows for sure, as polls can change drastically in a span of three months. Even though the election seems to be just around the corner, a lot can happen between now and then to turn around his approval rating. Maybe he'll find a cure for AIDS and buy every single child in the world a puppy to bring that low approval rating up a few points. It seems unlikely though.
It should be pointed out that even Mitt Romney is distancing himself from his own VP pick. What does that say about either of these guys? You see, Ryan has an out-of-this-world budget plan that would pretty much throw the U.S. into a state of chaos until 2040 or later, and that has a lot of people disgusted at Romney's choice. Mitt Romney knows that, so he's trying to separate his presidency from the views of his running mate. That's kind of a silly thing for ol' Mittens to do considering he chose the guy! If he didn't choose Ryan for his policies, why did he choose him?
Crime analyst and profiler Chelsea Hoffman can be found on The Huffington Post, Chelsea Hoffman: Case to Case and many other outlets. Follow @TheRealChelseaH on Twitter or click here to contact Chelsea directly.