Paula Abdul and Simon Cowell were reunited during the first day of filming for USA's X Factor. There were cuddly together and even gave each other a mini kiss. It was obvious the two have remained close friends since their days on American Idol. Cheryl Cole was also present since all three and L.A. Reid make up the four judges on the panel.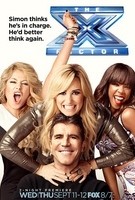 Speaking about Abdul, Cowell said, "I'm very comfortable with her. And she's funny – she really is funny. I think she's going to feel a lot of pressure, because there is a lot at stake here. … Look, I missed her when she left 'Idol.' I was always very clear about that. I want to see her when we were really happy, which was probably the middle of 'Idol,' maybe season 4, 5. … I'd like to get back to those times again."
HA! Simon isn't the only one who would who like to see him and Paula "back to those times again." As a quirky couple, they have amassed a group of fans purely devoted to them. American Idol just wasn't the same when there was only one of them there and not the other. It really is great to see Abdul and Cowell together again.
Speaking about the opportunity, Paula told Simon, "I'm thrilled that you invited me back. It's a blessing to be part of this. And I couldn't be more thrilled to have someone on the panel here also who has experienced what it's like to sit next to him… Miss Cheryl Cole."
Hopefully, that ol' spark that Paula Abdul and Simon Cowell exuded together during their time on American Idol will translate over to USA's X Factor. Seriously, if that spark was just a one time thing then it'll be like beating a dead horse having them together again. It just won't be worth it.
Photo: AceShowBiz
© Evalynn J. Saeyang – Gather Inc. 2011