PETA is upset with Janet Jackson for becoming the new star for BlackGlama, a firm which markets mink fur. PETA wants Janet Jackson to back out as the spokes-model for BlackGlama's upcoming 'What Becomes a Legend Most?' campaign.
PETA never known to just hug trees but to be the more radical of animal rights groups did not mince words when their spokeswoman spoke about Janet Jackson's decision to become BlackGlama's new face.
PETA Spokeswoman Amanda Schinke said, "It's amazing what celebrities will do when their careers are on a downslide, but we didn't think that Janet was this desperate.
Surely she knows enough about suffering and unjustified death to recognise that both occur in the production of a fur coat. We are asking her to think again and to donate these stolen skins to be used as bedding for animals orphaned by other human-caused disasters, such as loss of habitat."
Janet Jackson was revealed to be BlackGlama's new spokes-model on Thursday as an ad featured Jackson wrapped in a mink fur coat with a huge smile. Needless to say Janet Jackson is probably frowning now because of PETA's harsh words… I can tell you this much… PETA will not stop it's verbal attack on Janet Jackson, there will be no end to what they will dish out.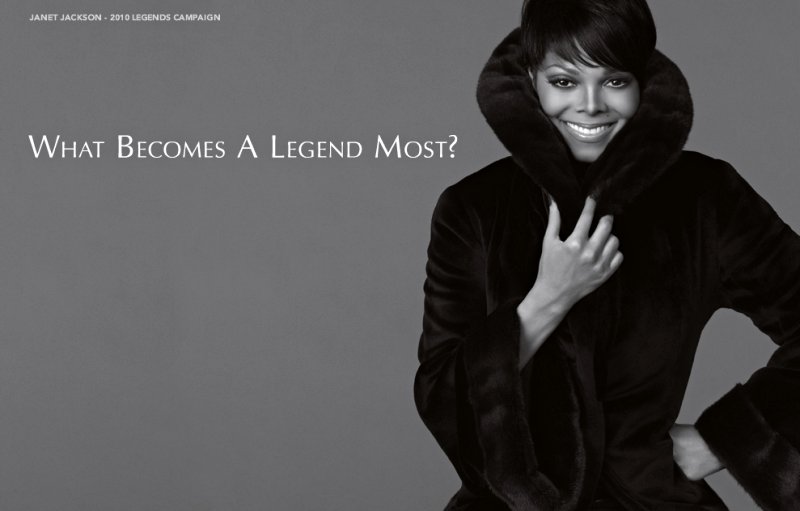 photo credit: BlackGlama

 
Get Your Entertainment News HERE!!!
*** * *** * ***
© Amy Saeyang Mattox – July 2010