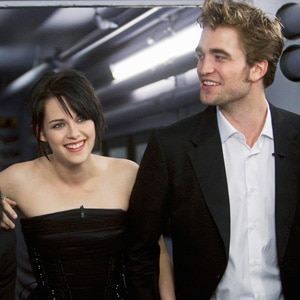 Robert Pattinson and Kristen Stewart's stayed together at the Ritz Carlton hotel in south Laguna this past weekend.
I guess after all the jet setting to so many interviews and shows recently, these two just wanted some alone time. Who wouldn't want alone time with R.Pattz?
Anyhow, the couple stayed to themselves and as usual were dressed down and casual.
According to eonline.com, their source said: "You could tell they were a couple," they both looked "very relaxed" talking and laughing closely. Rob and Kristen supposedly kept to themselves and looked like "normal kids their age."
"They didn't stand out at all. They were dressed very casual—Robert with a baseball cap, jeans and sneakers, and Kristen was casual as well."
"His hair was cut really short!" adds our witness as to why sexy Pattinson went unnoticed.
"They were just sitting next to each other talking. Everyone pretty much left them alone."
Good for them and thank goodness the public left them alone. Pattinson and Stewart totally deserve time just for themselves and for their relationship.
The statement above about Rob's hair falls right in line with the fact that he did just get his hair cut. There are speculations he cut it for his upcoming movie Water for Elephants. See the picture of his new do to the left.
 
 
 
Get Your CELEBRITY FIX HERE!!!
******************************************************************
photo credit:

ABC photo / Randy Holmes

http://robpattinson.blogspot.com/2010/05/robs-pictures-from-yesterday-hq-and.html
******************************************************************
 
Read More about Robert Pattinson, Kristen Stewart and Twilight:
 
 
© Amy Mattox – May 2010