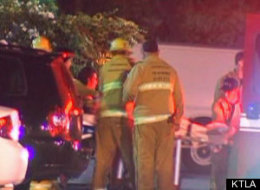 June 2, 2010: During a get together with some colleagues, porn star Steven Hill, 30, attacked and injured one person before killing and injuring others when he tried to intervene.
The get together was held at the Ultima DVD Inc.'s distribution and production center and apparently Hill had been ordered to leave the studio by Wednesday. In his attack, Hill used one of several swords at the studio, all of which were porn props. Steven fled in his SUV
Los Angeles police Detective Joel Price said, "There was no indication that things were going to get violent, there was nothing that provoked this attack, but at some point Steven chose to arm himself with what can be best described as a sword. He then used that sword against those three victims."
According to http://www.huffingtonpost.com, "[Steven] Hill appeared in films under the name Steve Driver. The Internet Adult Film Database lists 13 credits for him, including films for Ultima and other companies."
That's just terrible! Instead of using a real sword to cause pain, he should have just continued using his personal sword to cause pleasure. Hill must've been on drugs or mentally unstable or something! I hope cops get him soon!
For more photos of the crime scene, click HERE. and HERE.
 
Get Your Entertainment News HERE!!!
******************************************************************
photo credit: KTLA
******************************************************************
© Amy Saeyang Mattox – June 2010