Hold the iPhone, the front page, and hold the baby. Robert Pattinson just rocked up – in a limo, naturally – in the very first Cosmopolis teaser. And for once the usual adjectives "highly anticipated" don't really cut it. Announced yesterday via the film's official French Facebook, Pattinson fans around the world held their collective breath as they waited for the big debut. And the result? Welcome to film noir – David Cronenberg style.
The footage itself comes in at just under 30 seconds. Almost immediately, viewers are plunged inside a dense black background while the Cosmopolis logo rolls across the screen. Within two seconds, the disembodied voice of Pattinson – sounding every inch like the world-weary billionaire Don DeLillo envisioned, can be heard saying – "I'm looking for more," then "aim and fire. Come on, do it, flick the switch." Then, an image.
Source: Pattinsoncode.wordpress.com
Patricia Mckenzie, aka Kendra Hays, bodyguard and sometime booty call to Pattinson's Eric Packer, standing splendidly nude, smiles as she points a taser at a similarly nude Pattinson lying on a rumpled bed. The scene becomes clearer still, when Pattinson looks up at McKenzie and dares her to "show me something I don't know."
Is this the film's subtext? A young man with everything, ostensibly in search of a haircut, but also in search of something new, something he can't control or own. Is this the emotional tone Pattinson will bring to the larger story of Don DeLillo's part surreal/part thriller urban oddity? DeLillo's novel follows Packer's descent into the underbelly of Manhattan over the course of 24 hours – much of them spent in a limo – in the company of various colorful or dangerous characters.
Directed by Cronenberg (who also co-wrote the screenplay with DeLillo) – a man whose entire career could perhaps most simply be described as boundary-pushing – his anarchic touch is palpable even from the first few seconds. From the taser scene, the action switches sharply to an assortment of frankly, mind-bending, faster ones. Pattinson watching dancers in a hedonistic, sexy, New York club; Juliet Binoche – with bed-hair – on the floor of the limo; a man gouging out someone's eye with a knife; Pattinson swaggering (yes, swaggering) down an alley; a bright light and glimpses of coercion; a fake dinosaur (you heard); sex, more sex, even more sex; and Pattinson shooting at a faceless adversary.
Source: Pattinsoncode.wordpress.com
In a month teeming with high-tech, high-end trailers, virals, featurettes, teasers of teasers, and campaigns for dead cert blockbusters such as Prometheus, Battleship, The Hunger Games, Abraham Lincoln: Vampire Hunter, though great for those type of films, Cronenberg has clearly opted out of that race, instead aiming for something intimately compelling. While a smaller budget must have played a part in that decision, one also suspects the indie, almost pan-European feel of this teaser is also Cronenberg's taste.
Watching it, many will be struck by the hardcore tone of the scenes, as well as Pattinson's relaxed but very present "presence" in them. Past criticisms from some critics that Pattinson's previous roles revealed only reactive or passive performances should – on the basis of what's been revealed today – certainly be put on mute while Cosmopolis builds to release.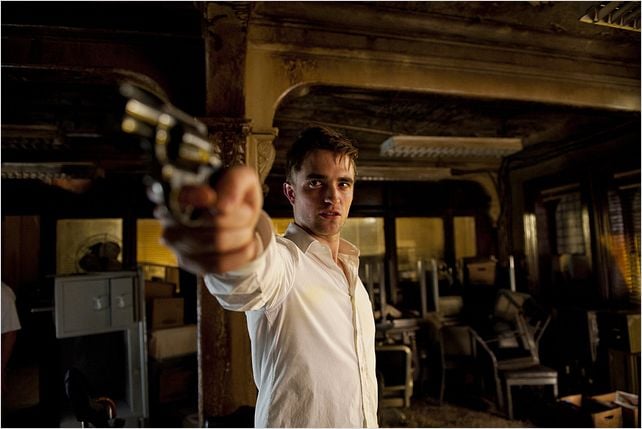 Source. allocine.fr.com
With Cannes buzz for this film refusing to go away, and two release dates – May 23 (France) and May 31 (Portugual) now confirmed – things do seem to be pointing towards a showing during the festival. A strong European connection already threads Cosmopolis' international cast: Binoche, Samantha Morton, Kevin Durand, Mathieu Amalric, Paul Giamatti, Jay Baruchel and Sarah Gadon. That thread continues with the presence of Alfama Films, the French production company behind Cosmopolis and a relationship with international film seller, Kinology.
But back to Robert Pattinson and the teaser. Even in these first, brief snapshots, watching Pattinson inhabit the Cosmopolis universe, the world of Forks and the Cullens never seemed more distant or irrelevant. And when one considers the Breaking Dawn – Part 2 teaser was released only yesterday, it says something quite startling about Pattinson's believability and immersion in the role of Eric Packer, that all you want to do after the teaser ends – is watch it again and again.
Not bad for 30 seconds. Not bad at all.
Hit the jump for the teaser: