Robert Pattinson topped off his recent night out in New York in a very strange way. After putting in an appearance at the IFC Films dinner with his friends, Tom Sturridge, Bob Sturridge, and Sienna Miller, the Twilight heart-throb was caught defacing a friend's table top with an electric drill. That's not a misprint. Kristen Stewart's recently regained man was photographed drilling holes in a friend's furniture. So what got into the Cosmopolis man? Was he drunk? Was he so bored he just picked up the handiest object and started playing with it? Or, has his reconciled relationship with Kristen Stewart already derailed, and he finally snapped?
Although all of the above might be true to varying degrees, none of them caused Rob's October 5 attack on his friends' table. Actually, he was using the power tool to leave them a unique autograph, carving his initials into the wood. Predictably, the news of Rob's foray into wood carving was soon seen ricocheting its way around the Twitterverse.
"Memories from last night: #RobertPattinson using #powertools NY never ceases to #surprise @ Wooster St.," tweeted a dedicated fan who seems to have watched Pattinson leave his bizarre memento first hand.
The fan also tweeted the pic below, which, for reasons known only to themselves, some Robert Pattinson fans seemed to find incredibly sexy.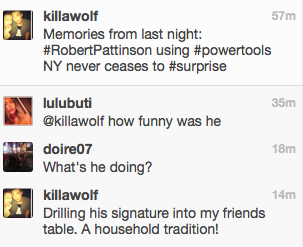 "Who knew Rob could get even sexier than he already is!?" gushed the folks at Hollywood Life.
Good grief.
Of course, none of this explains where KStew is and why she failed to accompany her light of love and Breaking Dawn co-star to New York for the IFC event. In one of Hollywood Life's famous polls, a 65.44 percent majority of respondents believed the On The Road star is languishing in L. A. all by her lonesome. Is there already trouble in Robsten's new paradise? Stay tuned.
Photo sources: Photobucket and Photobucket
© Hope Carson 2012
Hope Carson is the author of 2 books: A Roaring Girl: An Interview with the Thinking Man's Hooker and A Thousand and One Night Stands: The Life of Jon Vincent. You can follow her on Twitter.