It looks like the rumors about Robert Pattinson and Kristen Stewart spending the Christmas holidays apart are as accurate as the World Almanac. Gimlet eyed Twihards spotted the Twilight heart-throb all by his lonesome or at least sans Kristen Stewart in a London pub on December 24. He was reportedly drinking quietly at the bar. Needless to say, his deliriously excited fans couldn't wait to get to their electronic devices and Tweet about their latest RPattz sighting.
"R patts at the sun inn #wotusayintwilight," one fan tweeted incredulously.
'Standing next to Robert pattinsn in a pub," reported another.
"Yes that's Robert Pattison in the black hat in my local!" gushed yet another. Later she added, "Better pic of Robert Pattison! What a handsome fella!"
"Just clocked Robert Pattinson at my local. Great jawline," revealed yet another mesmerized fan, adding, "#Starstruck #RPatz"
Starstruck? You think?
Anyway, the question remains, where was KStew? And why didn't she accompany Rob to the UK for Christmas? Did she have prior commitments in L.A. connected perhaps to her On The Road promotional duties? Or is she really still persona non grata with her boyfriend's family–especially his sisters who, according to reports seem determined to hold a grudge against la Stewart to the grave over the Rupert Sanders cheating scandal?
Oh well, you can check out a fan snapped photo of Rob boozing it up by himself below. Stay tuned.
Note: At least he doesn't seem to be wearing Kristen's floral print lined jacket. Thank goodness for small favors.
Photo Source: Photobucket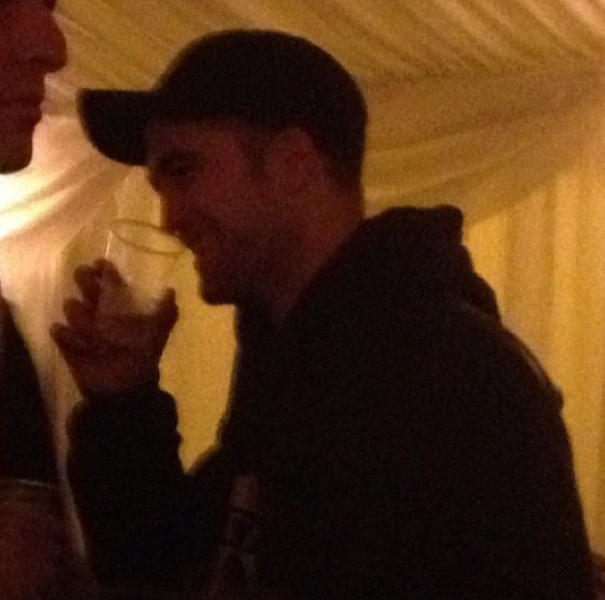 © Hope Carson 2012
Hope Carson is the author of 2 books: A Roaring Girl: An Interview with the Thinking Man's Hooker and A Thousand and One Night Stands:The Life of Jon Vincent. You can follow her on Twitter.