For a reconciling couple, Robert Pattinson and Kristen Stewart certainly seem to be going their separate ways. Despite disparate tales of couples' counselling, moving vans, and being unable to "live without each other," they have yet to appear together in public. At this rate, devoted twihards won't get to feast their eyes on their beloved Breaking Dawn lovebirds until…well, the première of Breaking Dawn. Of course, that doesn't mean RPattz and KStew aren't out and about on their own. In fact, Pattinson was recently spotted by and photographed with fans at an L.A. concert. But where was Kristen Stewart? Well, she's in the same city. At least that's a start.
On September 30, the Twilight heart-throb showed up at a private concert performed by The Black Keys at Hollywood's Sayers Club. Several fans, including an L.A. Times reporter Matt Donnelly, rushed to their electronic devices to tweet about the latest RPattz sighting.
"At the Black Keys show at Sayers, Rob Pattinson just rolled in with a group of male pals," Matt wrote.
Of course, Donnelly couldn't help noticing Kristen Stewart's conspicuous absence. He couldn't help announcing it on Twitter either.
"No KStew y'all," he tweeted, adding: "But I believe he's with Dominic Cooper. Will confirm, it's very dark. Just chilling everyone is waiting for the set to start."
So, there you have it. Looks like the world will have to wait a while longer for the newly reconciled Robert Pattinson and Kristen Stewart to emerge into the light of day. The question is: "Why?" What do you think?
While you're ruminating, you can check out a pic of Ron communing with a lucky twihard below.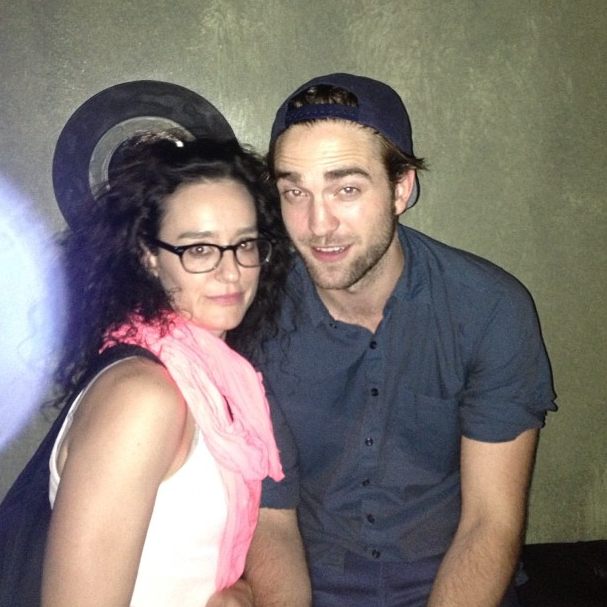 Photo source: Photobucket
Hope Carson is the author of 2 books: A Roaring Girl: An Interview with the Thinking Man's Hooker and A Thousand and One Night Stands: The Life of Jon Vincent. You can follow her on Twitter.