It's official…well, pretty official. Romney/Ryan 2012! Several media outlets are confirming that GOP presidential candidate Mitt Romney has selected Wisconsin Congressman Paul Ryan to be his running mate. The AP reports that an unnamed Republican source close to the campaign confirmed Romney's choice. Other than the source, what was the dead giveaway?
While the official announcement is expected later today, the two are gearing up for a four-state bus tour starting in Norfolk, Virginia. Both of the candidates are expected to make the announcement from the Nauticus Museum, which is where the USS Wisconsin is berthed, a not-so-subtle hint at the pick of Ryan. A great way to garner attention and pride from his home state. Some on Twitter were convinced another sure sign of the pair up was the url 'www.RomneyRyan.com' which redirects to Romney's campaign website. But, a search indicates that it is owned by a private party trying to sell it. Maybe a smart move on their part!
Paul Ryan is a seven-term congressman and popular conservative with the Tea Party. He was born in Janesville, Wisconsin and graduated from Miami University in Ohio. He has held some interesting jobs including driving the Oscar Meyer 'Weinermobile' for a short time! Ryan is married and has three adorable young children.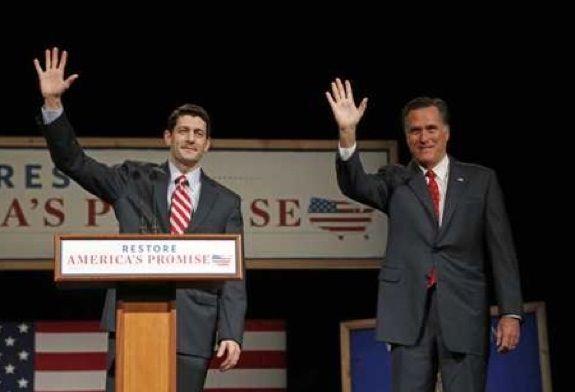 On Twitter, #RomneyRyan2012 is trending and #GiveMeSomeRnR in the United States and Twitter conservatives seem thrilled with the new GOP ticket. Fans of Ron Paul, in particular, are being critical of the decision. Liberals on Twitter feel confident of an 'easy win' by Obama/Biden over Romney/Ryan. Just imagining the future debate between Ryan and Biden makes the long wait worth it! Now, if only the debates were held by a neutral party and not the heavily left-leaning media networks.
Photos: Wikipedia/Twitter
© Margie Wilson-Mars 2012 for Gather Politics