Scandal's Olivia Pope (Kerry Washington) is a star. She used to work in the West Wing (and for fans of that show, Joshua Malina plays David, a US Attorney on this one), but has now branched out on her own. They all want to "get normal," but so far, no one has it. She's opened her own firm and she has associates, but her firm is decidedly not a law firm. Never mind that she hires lawyers. While they may have been litigators in a former life, Stephen (Henry Ian Cusick) or investigators, Abby (Darby Stanchfield) or even have worked for the CIA, although he doesn't want to talk about it, Huck (Guillermo Diaz), now they are all problem solvers, or gladiators in suits as Harrison (Columbus Short) tells new hire Quinn (Katie Lowes).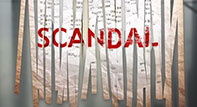 To prove it, Scandal, Shonda Rhimes latest drama, has Olivia meeting with Ukranian mobsters, Stephen in tow. They are $3 million short. The head mobster tells Olivia to find the other $3 million and they'll get the package. Olivia steps up to the man and tells him that they have a deal now. That's all he's getting. He has 4 1/2 hours before he and his accomplice are on the no fly list, and after all $3 million will go far in Kiev. He glares at her a bit for show, and then nods to his partner to give Stephen the package.
When Quinn meets the team for the first time, the Polish ambassador and his wife run into the office for the package/baby. Because yes, the package is their kidnapped baby.
As everyone is about to go home, Huck comes in to tell them that someone is here to see Olivia. That someone is Sully St. James, a decorated war hero who just happens to be covered in blood. Oh, and by the way? He says that his girlfriend is dead and the police think he did it.
Sully tells Olivia and crew the details.They leave to discuss whether to take him on as a client. Everyone raises objections. Olivia listens and then says they're taking him because she believes him. They moan, but they'll follow Olivia into a volcano if she asked so that's that.
The team gets to work, including a visit to the morgue to talk to the coroner (Leslie Grossman) but as everyone is looking into Sully's story and his girlfriend's life, trying to figure out everything about everything, Olivia gets a call. It's the White House, the president (Tony Goldwyn) wants to see her. Basically, a woman who works in the West Wing is threatening to come forward with the news of their affair. The president swears it isn't true.
Olivia grabs Quinn and confronts Julia (Liza Weil, Paul Adelstein's wife. Shonda clearly likes to cast within the family). She gives Julia a rundown of her life. Shock and awe have nothing on Olivia. She tells Quinn that if she's ever indicted, she can testify that she did this on her own, and if not? This never happened. Quinn is horrified. Julia is devastated. Afterwards, Olivia watches the news and calls up the president. She asks him to turn towards the camera. He looks straight at it/her and tells her he didn't do it. She believes him because she wants to.
After a whole lot of investigating and barking up the wrong tree, the team has it. There is video confirmation of Sully's alibi. The problem? He's a conservative Republican and can't/won't be gay. The team tries to change his mind, but he won't and turns himself into the police and David.
Julia tries to kill herself, but she does it to try and get the president to come and see her. She tells Quinn that he calls her "sweet baby". Olivia looks shattered when Quinn tells her. She goes to the White House and confronts the president. He tells her that he was lonely because she left him. Because yes, they had an affair. She tells him she left him so that he could be a better man. When the chief of staff, Cyrus (Jeff Perry) comes in to tell them to keep it down, he catches them kissing. When Olivia realizes that he had no idea, she also realizes that their affair meant nothing to the president. She leaves to talk Stephen down.
While all this has been going on, Stephen has been waffling on whether to propose to his girlfriend. Olivia meets him at the restaurant and tells him to get normal, because she knows he loves his girlfriend and it's time. He does.
Olivia talks to Sully. She tells him that he needs to stop living a lie. That she can tell from the video that he obviously loves that man. That he should be free to love whomever he choses. Somehow, this convinces Sully and not only does he allow Olivia to show the video, he holds a press conference and outs himself.
Olivia gets a visit from Cyrus. The president wants to see her. She tells him no, and by the way? Julia is now a client. Welcome to Scandal, people.