Senator Ted Cruz (R-TX) received a standing ovation from over 1,000 supporters at Arlington Music Hall Tuesday night. The senator joked that he was welcomed on the Senate floor in the same way. The Tea Party hero talked to the CBS affiliate in Dallas-Ft. Worth about the backlash he got from Republicans who wanted him to focus on reducing spending, "If you want to deal with spending, if you want to deal with the deficit, deal with the debt. You have to deal with Obamacare, because if we get economic growth back, all of those problems are dealt with. If economic growth remains anemic, we can't turn around spending, the deficit, and the debt. It all comes back to jobs and economic growth."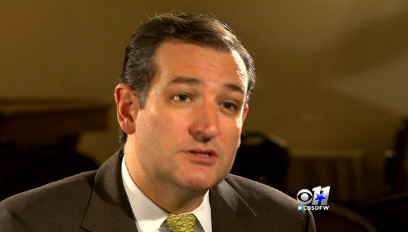 The more interesting part of the interview came when the senator talked about the now common strategy of some Democrats, and in this case, Republicans. "One of the classic strategies of Washington we've seen employed by those trying to defend Obamacare is to change the subject and to launch personal attacks. A lot have gotten pretty nasty, and to try to change the topic because a lot of people in the press love to cover politics like it's a Hollywood gossip column." Cruz got a double whammy from both parties. The Republicans that wanted to move forward with the Affordable Care Act were especially nasty towards Cruz. Because of that, they lost a great deal of support from the conservatives who stand with Cruz.
In addition to the insults and attacks from D.C., the Cruz family is facing a more troubling problem…death threats. Threats that originated from Twitter don't seem to be really worrisome to Ted Cruz, but they have warranted attention from the FBI and Capitol Police. "Unfortunately, there are people who will resort to violent threats, will resort to insults, and personal attacks. I got to tell you, from my perspective, that's unfortunate. But I think it's also the product of how we're corroding civility in public discourse, just how vicious and nasty the political attacks are." When he was asked if he was getting protection at home, he said that law enforcement is dealing with it.
So many people have been busted for posting threats on social media, you really have to wonder if they ever watch the news! With all the visits Cruz is taking to other states, there's speculation he'll run for president in 2016. Of course, there's also speculation that he's not legally allowed to run because of his birthplace. While the Tea Party and other conservatives would certainly be delighted if he ran, beating Hillary Clinton in 2016 is going to be near impossible. Maybe the Jr. Senator should wait it out another few years, perhaps by then America will be ready for a conservative president.
Photo credit: Screenshot/CBSDFW