New York City taxpayers are forced to shell out big bucks to Occupy Wall Street for damages incurred to books from the "people's library," after police raided Zuccotti Park. The police were kind enough to pass out flyers to warn "residents" that they would be coming (after the radical anti-capitalists imposed their presence in the park illegally).
The police even stored the books for pick-up. The NYC Mayor's Office even tweeted to let the protesters know that the books were being held.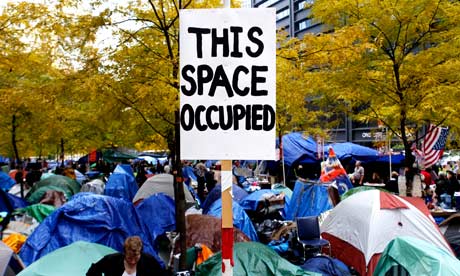 It was not enough due diligence, apparently, as the U.S. District Court in Manhattan announced the $366,700 settlement late Tuesday, according to NBC News.
The settlement calls for the city "to pay Occupy $47,000 for the loss of the books and about $186,000 in legal fees it incurred." An additional $75,000, along with $49,850 in legal costs, goes to "Global Revolutions TV" for the damage incurred to their equipment, and an additional $8,500 will be paid to "Times Up New York," which provided bicycle-powered generators to the protesters.
So, despite the fact that the protesters were there illegally, that they were given warning, and that items were stored for them, they won this lawsuit. They were even allowed to return to the park once the items were removed! One would think the New York City residents who had to deal with the protesters on a daily basis would file their own lawsuit.
Here is the flyer:
Photo Source: vigilantsquirrelbrigade
Photo Source (Zuccotti Park): Seth Wenig/AP via the Guardian