This week on Shark Tank we saw four pitches to the sharks: Tower Paddle Boards, Instant Lifts, Vinamor, and Miso Media.
Each week we see the sharks (Mark Cuban, Kevin O'Leary, Damon John, Barbara Corcoran and Robert Herjavec) being offered an opportunity to either invest their own money into either new businesses or infuse more money into an existing company to grow it more.
Stephan Aarstol's Tower Paddle Boards is an interesting business venture. He doesn't manufacture the boards, but his claim is that he has the internet marketing skills to blow this business out of the water. He is wholesaling the boards at half price and has sold $100,000 worth of product in four months. The sharks are not impressed and think the valuation of the company is way too high. The only one to bite is Mark Cuban. He offers Stephan $150,000 for a 30% stake in the company plus a 10% royalty on sales. He also wants the first right of refusal for any future company ventures. Stephan plays ball and a deal is struck.
Nick and Penilopee Larosa offer the sharks a 25% stake in their Instant Lifts company for $100,000 investment. Their product pulls the skin up to create a smooth and slimmer look to thighs, arms, and breasts. It's a glorified duck tape product. In five months they have sold $75,000. They hold the patent on this product as well as patents on an instant facelift product. However, they are not willing to sell the other products with their pitch. One by one the sharks swim away from this offer. They want a piece of all the action and it's not being offered.
Gary DeJohn shows the sharks the Vinamor, a wine aerator. This product is intended to pour wine into a glass rather than into a decanter. The Vinamor sits on top of a wine glass and allows the wine to flow over the devise exposing it to a maximum amount of air, which brings out the full flavor of the wine. He has sold a thousand of the devices for $40 each. He is looking for $75,000 for a 30% stake in the company.
Gary pours Robert a glass of wine with the Vinamor and one without the Vinamor to demonstrate the effectiveness of the device. Robert says there is a difference and keeps the glass of wine to drink. Robert then says he doesn't have the experience in wine and he's out. None of the sharks bite on this venture.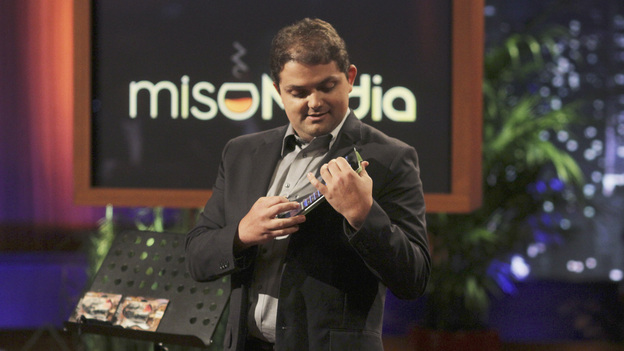 Last up is Aviv Grill with Miso Media, an educational software that teaches people how to play an instrument. Aviv has partnered with Google, Justin Timberlake, and indie-pop singer-songwriter Ingrid Michaelson. His device is available as a free app for the iPhone and iPad. He's looking for $300,000 for a 5% stake in the company. Damon and Barbara are out right away. Kevin offers $100,000 for a 3.3% stake. Robert jumps in for the $300,000 but he wants 10% stake. Aviv counters with a 7% stake. Robert goes out. Mark jumps in and offers $300,000 but he wants 8%. Mark wins again!
Stay tuned to Shark Tank. On the next episode the sharks will be shown a beer-infused ice cream, pre-packaged meals for pets, safety wear for motorcycle enthusiasts and a clothing business.
Shark Tank airs on ABC Friday's at 8/7c