This week on Shark Tank viewers saw four pitches to the sharks—the Swilt, which was very much like a reproduction of the Snuggie, the Show No towel, Puppy Cake, and the Wine Balloon.
Each week the sharks (Mark Cuban, Kevin O'leary, Damon John, and Robert Herjavec) are being offered an opportunity to either invest their own money into either new businesses or infuse more money into an existing company to grow it more. This week, Lori Greiner also appeared as a guest shark.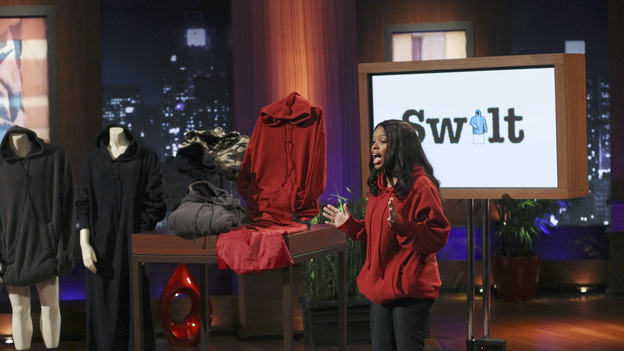 The sharks liked Ivori Tennelle's drive and update spirit, but the product is left empty. She asked for $30,000 for a 35% stake in the company. She had only sold 100 Swilts to date. One by one, the sharks turned down the investment.
The sharks were intrigued by Shelly Ehler's Show No towel. Shelly was looking for a $50,000 investment for 25% of the company. It starts out a little rocky. Shelly brings her two boys in with her to pimp the product. She already has sold products to several water parks and has PO's for additional parks plus a deal in the works with Disney.
Things get heated up quickly, and Lori offers Shelly a check right on the spot for the $50,000. Daymond offers the same $50k but with only a 20% stake in the company. Next Mark offers $75,000 for 25% of the company. In the end, Shelly takes the check offered by Shelly. Shelly had offered the same $75,000 that Mark offered. Shelly takes the $50,000 check and will wait for the remainder of the investment. Good deal for Shelly!
Next pitch, Puppy Cake invented by Kelly Chaney. It's a cute idea, but it doesn't have legs. None of the sharks bite. They think Kelly doesn't have the drive or enough product options to offer. They would have liked to see additional products besides just the Puppy Cake. Sales to date had only totaled $80,000 in four years. She was asking for $50,000 for a 25% stake in the company. Next!
Eric Corti takes the cake… His product, Wine Balloon, is a good one. The sharks are very excited about buying him out, 100%. He was only asking for $40,000 for 30% of the company. He gets an offer for $600,000 from Lori and Mark to purchase 100%. Mark tells Eric he needs a decision right away and then Eric just stares at Mark… He doesn't move. Mark looses patients with Eric and pulls out of the offer. He's left standing with a $500,000 offer from Lori. He tries to bring Mark back in. He comes in for a moment with Lori at the $500,000 offer. Then he backs out and Lori lowers her offer to $400,000. He finally says yes… Good thing he sold the patent because he wouldn't make a very good businessman.
Tune in for the next episode and see who gets an offer and who doesn't.
Shark Tank airs on ABC Friday's at 8/7c