No matter what he does, Kris Humphries finds ways into the mainstream media. Playing in the NBA has a lot to do with it, but most of the time he can thank Kim Kardashian. Should the young pro escape his ex-wife by leaving the Brooklyn Nets?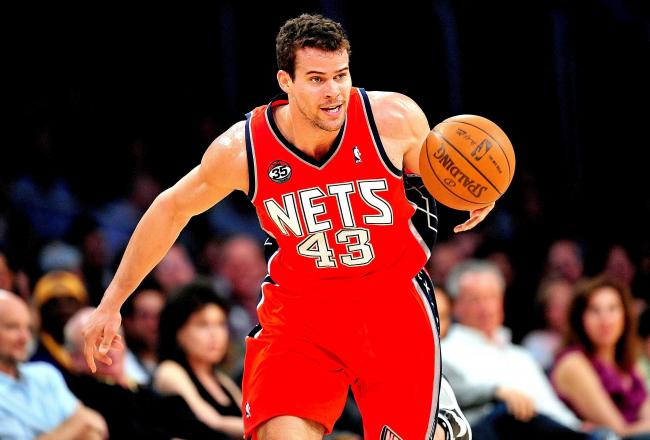 Humphries NBA status put in perspective in New York Knicks game
Egos are a necessary evil of pro sports. The best players in history had huge egos because it stems from confidence. Humphries is no different. He came into the NBA with dreams of winning championships and becoming a superstar. Sadly, like many other athletes, people have grown to know him more for actions off the court than on it. That was never more clear than at a recent game between his Brooklyn Nets and the New York Knicks. Hall of Fame player Walt Frazier, who played for both teams during his career, referred to Humphries not by name but as the "Kardashian guy" in reference to his estranged reality star wife. Given his work and effort every day to help the Nets win, to have someone like Frazier, a basketball player, recall him by her name instead of his is the reality of the choices he made when they married for 72 days. Since then he hasn't heard the end of it. No matter how well he plays fans everywhere remember him as the guy who married Kim Kardashian. That isn't something to get fixed by playing harder. So is there any way for Humphries to escape?
Kanye West saga pushing Humphries into battle with Kim
The chances of that are slim at the moment. Thanks to some extra drama from the love affair between Kim and music mogul Kanye West, Humphries has drifted closer and closer to an explosive divorce battle. The court date is set for February but the impact may already have started. Humphries' stats have dipped across the board this season, standing at seven points and seven rebounds per game, three less than a year ago in both cases. At age 27 he doesn't have the excuse of getting old. So either he has lost the edge or the proximity to his former wife is having a bigger effect than he's letting on. Kim after all has residence in New York, so her fans practically surround Humphries every time he dresses for home games. That kind of pressure added onto the regular stress of playing in the NBA can tax bigger men. It does raise the question whether it's best for him to cut his losses and seek a trade somewhere else. Perhaps an exit from the Big Apple media eyes would do him good. Clearly the Nets won't do much worse than they have lately without him.
The Kardashian curse may sound like a myth, but to Kris Humphries it must seem real. No matter what he does he can't escape it. Maybe moving on from the Brooklyn Nets will do it.
Photo Credit – US Presswire