Nobody ever wants to trade a star player but the Chicago Bears have to know they can win a championship. With the offense reaching a peak point, do the New York Jets have something that only Matt Forte could get for them?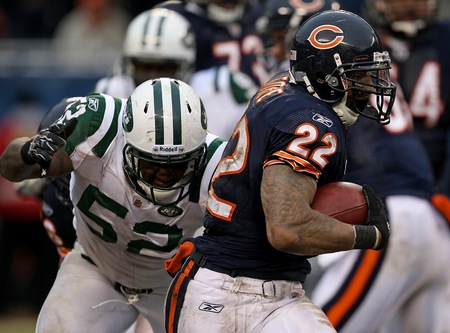 Phil Emery knows Bears will find future success through Jay Cutler
As great a player as Matt Forte was and is for the Bears franchise, the era of championship wins by way of great running backs ended back in the early 1980s when Joe Montana, John Elway and Phil Simms all entered the NFL. Since then the quarterback is the reason teams hoist the Lombardi trophy and its only taken Chicago dozens of tries to get it right. For the first time in decades the team finally has a true talent in place who knows how to win in Jay Cutler. General Manager Phil Emery made that clear when he made his first official move by trading for Pro Bowl receiver Brandon Marshall, a man Cutler pushed for earlier in the offseason. All the pieces seem in place except for one. The Chicago Bears offensive line is still a question mark. Coaches and executives believe a scheme change will fix the problem, but schemes alone don't give up 105 sacks in two years. Injuries and lack of talent tend to do that. The Bears need help to protect their one who can get it for them.
Jets running back issue trumped by Tim Tebow and Mark Sanchez mess
The New York Jets are the soap opera of the 2012 NFL offseason. After a locker room spat between players, the team got a head start on the controversy wagon when they brought in fan phenomenon Tim Tebow to compete with starter Mark Sanchez for the starting quarterback spot. Then the team added to the drama by drafting Quinton Coples out of North Carolina, a defender with rare talents but a questionable motor that has fans worried. In all those headline catchers, eyes have drawn away from the part of the Jets roster in need of help. When New York made it to back-to-back AFC championships in 2009 and 2010 it was with a powerful running game led by LaDanian Tomlinson and Shonn Green. Tomlinson is now a free agent and leaning towards retirement. Green is a power runner but showed he was not a fulltime back last season. Adding a hybrid talent like Forte who can run with speed and catch out of the backfield would make the Jets dangerous in the AFC East division. In return they could ship one of three Pro Bowl offensive linemen on their roster to Chicago, whether that is center Nick Mangold, guard Brandon Moore or tackle D'Brickashaw Ferguson.
The Chicago Bears want to keep Matt Forte and Jay Cutler teammates but they must also weigh value. Forte is 26 and coming off his best season yet. If ever there was a time to trade him, it's now. The New York Jets drive to wins through the running game and defense, regardless of the Mark Sanchez and Tim Tebow mess. With the ammo they have at offensive line, they could afford to make an exchange for help.