While the draft is still months away most teams at least assume the Kansas City Chiefs will use their first overall pick on a quarterback, likely double threat Geno Smith. So should the team consider hiring Andy Reid as their new head coach?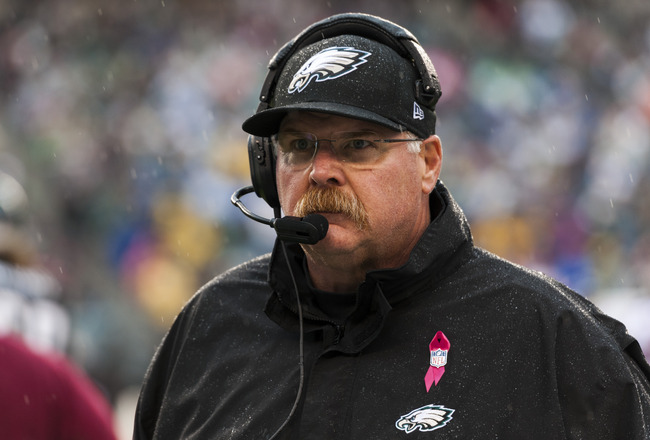 Reid failures with Philadelphia Eagles can't cover quarterback successes
Analysts and fans will have their opinions about why the Andy Reid dynasty finally fell apart with the Philadelphia Eagles after 14 seasons. Some will say injuries came at the worst times over the past couple years. Others believe his shortcomings at replacing his coaching staff came out, especially after the death of the highly-respected Jim Johnson. Most of those arguments have merit and do explain where Reid went wrong. Yet for all the talk about the reason he was fired, they can't mask what made him a great coach and what will get him hired in no time. Few recognize just how much success he's had with quarterbacks. His greatest project of course was Donovan McNabb. Eagles fans booed him from the highest rafters when the team drafted the young passer out of Syracuse. Under Reid's direction though Philadelphia only went on to five NFC Championship games and a Super Bowl berth. If that weren't enough he sent Jeff Garcia to a Pro Bowl. A.J. Feeley never caught on with other teams but under Reid he posted an impressive record and helped the team to the playoffs in 2002. While the jury is still out, he got enough out of Kevin Kolb to wring a second round pick and Pro Bowl corner in a trade with Arizona. He even had Michael Vick in MVP talks back in 2010. That track record is something every team wants and will bid for when the interviews start.
Romeo Crennel lost job because of Matt Cassel failure
Part of the job of being a head coach is recognizing a roster weakness on a team and having enough wherewithal to address even if the job is brand new. That was the dilemma that faced Romeo Crennel after he took over for Todd Haley last offseason. He had to see the team wasn't settled at quarterback with Matt Cassel and Brady Quinn. Aside from a couple decent years in 2008 and 2010, Cassel couldn't escape his shortcomings while Quinn just doesn't have the traits to start in the NFL. The 2012 draft was the perfect chance for the team to land a talented young passer. They had shots at Brandon Weeden, Russell Wilson and Kirk Cousins among others. Still Crennel fell into the same trap that many do when interim coaches become head coaches. He didn't want to change too much because he thought he could make the current formula work. Now he's lost the second head coaching job of his career and Kansas City seems on a mission the solve their passing woes in a much weaker quarterback class. For that they will need a coach with quarterback chops. Reid isn't young but has the experience and know-how to do it.
Romeo Crennel couldn't save the Kansas City Chiefs. Hopefully that will change with Geno Smith and a new coach. There are many young coaches with promise in the NFL but Andy Reid is the safest play of any available.
Photo Credit – US Presswire