It's normally hard for division rivals to make trades unless the price is right. However, a shaky quarterback issue for the Pittsburgh Steelers could make them interested in luring Colt McCoy away from the Cleveland Browns?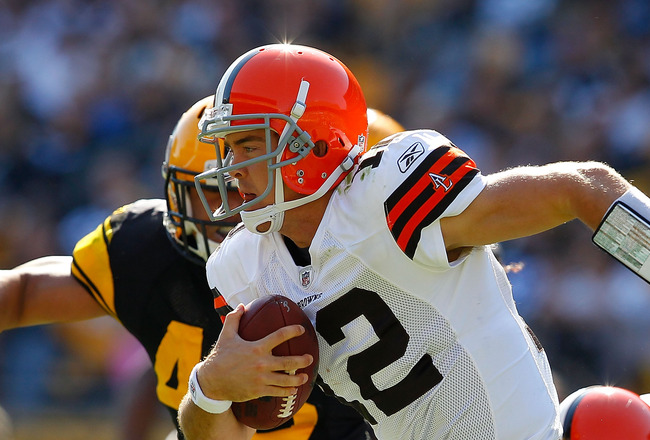 Backups behind Ben Roethlisberger are old or unreliable in NFL starts
One thing fans have come to know about Steelers football is the fearless and some might say reckless way quarterback Ben Roethlisberger plays. Where other passers get the ball out of their hands quickly to avoid contact, Big Ben braves the hits to create bigger plays on the field. While many argue it's what helped Pittsburgh win two Super Bowls, others will counter its quickly shortening the career of the best quarterback the team has had since Terry Bradshaw. Just nine years removed from getting drafted and Roethlisberger already has an injury list longer than a grizzled 25-year war veteran. If he keeps that style of play up he may get forced into retirement well before he's ready. Big Ben shrugged off those questions though. He says he's willing to take the hits because it's the best way he can help his team win. While not lacking in bravery Roethlisberger has still put his Pittsburgh Steelers in a tough spot. Should he get hurt the team would have to rely on a host of questionable backups. There's the 15-year veteran Charlie Batch, the short and hot-tempered Troy Smith and a massive rookie named Jerrod Johnson. None of those names grant confidence to fans. Would that mean the team front office might explore outside insurance for when their franchise quarterback did go down?
Brandon Weeden has put McCoy in a rare but interested trade market
The Colt McCoy era for the Cleveland Browns is over thanks to rookie Brandon Weeden. One would've thought the team might eagerly put him in the backup spot if their prized draft pick faltered. Instead they immediately put the third-year quarterback from Texas up for trade, kicking off a rare but fascinating market for a backup. Next to starting quarterback, the backup is one of the most unsung yet important spots on any roster. Early winds of interest in McCoy have pointed to teams like the Green Bay Packers and St. Louis Rams. Even the Denver Broncos could add him to the horse race happening behind Peyton Manning. One team that hasn't shown interest but could as training camp starts is Pittsburgh. While the Browns and Steelers are long-time division rivals they both still could help each other. Pittsburgh always has a good supply of draft picks and their depth at wide receiver might interest Cleveland enough to work out a deal.
Colt McCoy knows better than anybody what the Pittsburgh Steelers are about. If he can get the Cleveland Browns to put him behind Ben Roethlisberger, then his NFL career could start looking up. On the other hand his former team has Brandon Weeden and more ammo to help him win down the road.