ABC opted not to renew GCB, formerly Good Christian Bitches and Good Christian Belles. The show ended on its 10-episode freshman (and only) season with some minor cliffhangers, and fans were not pleased. Unfortunately for fans, it is now abundantly clear that a second season is not happening.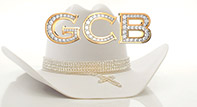 The show ended with Carlene and Ripp talking about his newly discovered daughter, one neither she nor he knew about. It was unclear whether or not this daughter was conceived before or during their marriage, although it seemed likely that it was before. Cricket and Blake were facing the possibility that their "white marriage" was going to be revealed by Mason. Zach sold Sharon's business without consulting her, and to a subsidiary of Cricket's company. Gigi was probably the only really happy one with her relationship with Burl going about as smoothly as you might hope for in TV-land. And Amanda and the pastor shared a more than friendly kiss.
So all signs kind of pointed to a promising second season—especially since it seemed like the core women were going to be working together more (those scenes were always more entertaining than the ones where they were apart)—but hopes were dashed when ABC announced its 2012-2013 schedule, and the show wasn't on it. Instead, Body of Proof and Scandal were renewed.
Fans did not give up, though, and immediately set about trying to change the network's mind. They took to twitter and set up a Save GCB page, but it was all for naught. While Kristin Chenoweth, who played Carlene, undoubtedly appreciated fans' efforts, she has inked a deal for a recurring role on The Good Wife for the upcoming season (TV Line). Seems she's going to be a pot stirrer of a political reporter. So if you're a fan of The Good Wife and Chenoweth, this is good news. If you're a fan of GCB? Well, it was a valiant effort.
Photo Credit: abc.go.com