I would not be hard to believe just by looking at their bones. According to http://www.msnbc.msn.com/id/39691099/ "WASHINGTON — Tyrannosaurus rex was certainly the king of dinosaurs, but may also have been dinosaur a la king.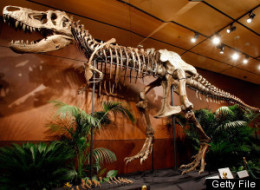 A team of researchers reports Friday that huge tooth marks on T. rex bones indicate the ancient giants may have cannibalized one another.
"They're the kind of marks that any big carnivore could have made, but T. rex was the only big carnivore in western North America 65 million years ago," Nicholas R. Longrich of Yale University said in a statement.
Longrich and colleagues report their findings in Friday's edition of the journal PLoS ONE.
They found 17 fossils with deep V-shaped gouges of a type identified as being made by T. rex. Of those, four were remains of T. rex themselves.
It seems likely the marks were made during scavenging from a dead dinosaur, the researchers said.
"It does seem improbable that Tyrannosaurus routinely hunted full-grown members of its own species," the researchers wrote." So it is easy to tell that they ate one another.