Teen atheist Jessica Ahlquist will be speaking at the Reason Rally event set to be held in DC. The teenager became nationally known after she took her Rhode Island high school to court over a law-violating prayer banner on display. Of course, she won the lawsuit, and even though she became the victim of hateful threats and bullying, she has risen to heights far higher than those who do not respect the separation of church and state.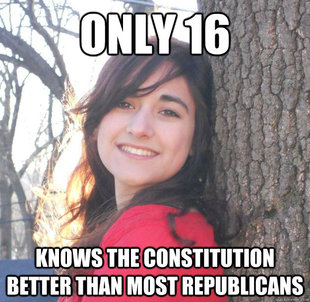 The Reason Rally has been a long-awaited event that's been referred to as the "secular Woodstock," so it's a highly honorable event for Jessica Ahlquist to be speaking at alongside other popular figures. Certainly those who oppose this young woman in her hometown of Cranston are just fuming mad over how popular this social pariah has become. It's more than well-deserved to be honest, because she has proven to have the leadership and guts it takes to keep this country a secular one. That's more than what could be said about many of those in politics today. Maybe that should be her next venture!
Crime analyst and profiler Chelsea Hoffman can be found on The Huffington Post, Chelsea Hoffman: Case to Case and many other outlets. Follow @TheRealChelseaH on Twitter or click here to contact Chelsea directly.