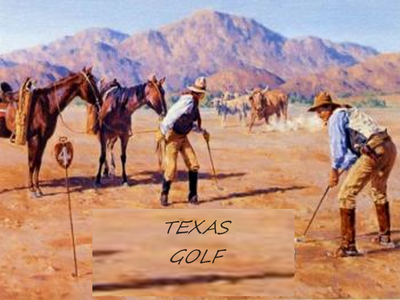 Texas Golf
I stopped in my tracks and motioned for those behind me to stop, as well. "There is a squirrel in that oak tree; give me my 7-iron." I grabbed a golf-ball from my pocket and dropped it on the ground before me. With a quick aim, I swung the club and the squirrel dropped to the ground in the distance. My cow immediately took off toward the spot where the squirrel had dropped and grabbed the squirrel and brought it back to me.
The others who were with me came out empty-handed on the first hole of the course. In Texas, we have specific rules for golfing, and much planning and training must take place to even qualify for "Western Golf." I had worked with my cow for almost three years to train him to retrieve the animals that were taken as part of the game.
On the second hole, all four of us scored, but yielded various results. Mike took a duck with a 9-iron, Jeff scored a large frog from the pond with a 3-iron, Robert managed to knock a raccoon out of a pine tree with a wedge, and I nailed a rabbit just as it stuck it head from a hole with a 3-wood from about 175 yards.
The third hole was non-productive for all of us because Jeff's cow went crazy and started running wild and scared all the animals away. Mike was disqualified because we believed him to be using steroids, or maybe just too much coffee. I won the game with my squirrel and my rabbit.
NOTE: NO ANIMALS WERE HARMED DURING THE WRITING OF THIS STORY…
Vic Damico 2013