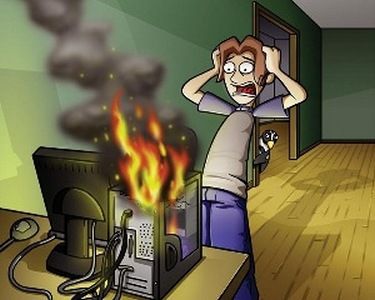 The Death Of A Friend…My Computer Passed Away Two Days ago…
Testing My New Computer:
I pressed the power button on my PC Tuesday morning, and the usual green light that appeared was not to be seen. It was quite a strange feeling. I first double-checked to ensure that the unit had not accidentally been unplugged, but that was not the case. It was plugged in, the power button had been pressed, yet it was as if I did not have a computer. This was the moment that I first learned of Internet withdrawals, which created a slight anxiety within me.
I tried again later in the day to unplug and to plug in again my computer, but still it was lifeless. I was forced to face the reality that it was gone. It was like losing a close friend.
After a few hours of much contemplation with the factors of my dilemma, I decided that I needed to take a break from the Internet and just maybe read a book or to find something creative to do with my spare time. I was consumed with boredom and even a slight anger with the inability to just jump onto the Internet and look at the news, the sports, or to check on the various sites which I use on a daily basis.
Well the withdrawals became stronger with each hour and within the first twenty-four hours; I was unpacking my new laptop. The void has been filled, and now I have to figure out how the damned thing works. My largest problem was trying to remember the passwords and usernames for about six sites and for the various other programs that I use such as Photo-Bucket and I still have not returned to anywhere resembling the point I was before the death of my friend.
I must now learn the operating system of Windows 7, after using Vista for the last three years, and there are some differences, but nothing that is really troubling to me. I am also faced with a new version of Microsoft Office, so the Microsoft Word part of it is quite different, which I am using to type this insignificant post just to see how it works.
I must now try to have a stranger attempt to bring my other PC back to life in order to retrieve information; my short stories and poetry, and about 40,000 songs that are now beyond my reach. I am grateful for the fact that I had a 2T external hard-drive that held my 650 plus movies, so I know that I have not lost them. So, somewhere in the near future, hopefully I will get back to normality and the anxiety and withdrawals will be a distant memory until this computer takes its last breath of data.
Vic Damico 2013