Iranian television is reporting the capture of a U.S. drone that flew into Iranian airspace in the Persian Gulf. The U.S. Navy says all American drones are accounted for but Iran did capture an American drone last year. Who is to say they didn't do it again? It's not like the U.S. government won't lie to cover up what they don't want the international community to know.
When the drone was captured last December, President Obama requested it be returned. Not surprisingly, they did not comply and they gained valuable technology from that RQ-170 Sentinel drone that was in the area surveying Osama Bin Laden's compound. The Iranians have video footage of the latest ScanEagle drone captured. In the background of the video is a map of the Persian Gulf and a quote from Ayatollah Ruhollah Khomenei: "We will trample on the U.S." It would seem they are pleased that the U.S. knows they have the drone and they want the U.S. to know they are not going anywhere peacefully.
Although the U.S. Navy denies flying into Iranian airspace, they have admitted to flying the ScanEagle drones in international airspace only and it is common knowledge that they have stepped up surveillance of Iran's nuclear reactor. And, ironically, the U.S. Navy released a statement earlier today about a Puma AE surveillance drone being tested in the area. So, is that the story? America didn't lose a ScanEagle to Iran, they lost a Puma AE? Compare the pictures below of the ScanEagle and the Puma AE. The aircraft in the Iranian news footage is of a ScanEagle and most definitely NOT a Puma AE!
White House spokesman Jay Carney is saying there's no evidence that Iran has a U.S. drone. What more do they need besides the video footage with the backdrop text of "trampling" America? Or how about Ahmadinejad's comments about pushing his enemies back to their borders and his indication that the sanctions are not hurting them? The time for talk might be coming to an end very soon. Although war is not high on anyone's list of desirable outcomes, there are not many options left when dealing with a determined enemy that is seething with hatred and in the midst of building a nuclear bomb.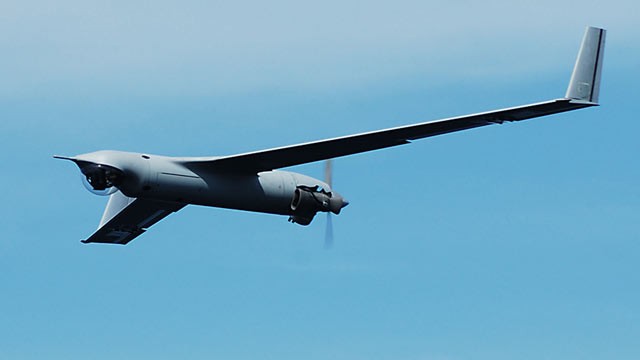 ScanEagle Image Source: ABCNews PRNewsFoto/Insitu/AP
Puma AE Image Source: AeroVironment