Koyuki Higashi and her partner Hiroko were married at Tokyo's Disneyland and the crowd cheered with enthusiasm. The lesbian couple is one of the first to be married at any of the Disney Resorts and has captured the world's eye as the couple shares the moment with the globe. While this isn't typical in the American parks, it appears that Tokyo Disney wanted to embrace the moment for celebration and incorporating the happiest place on earth seemed to seal the dream.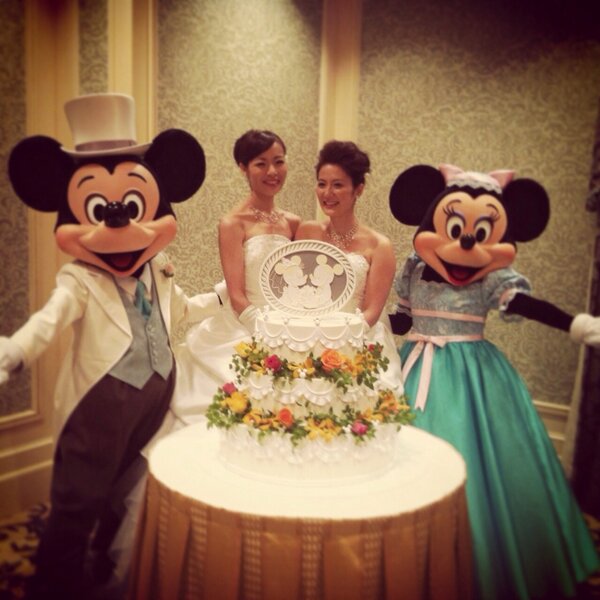 The idea of offering packages to same-sex partners came from the couple who wanted to have their private ceremony at the park was announced a while ago. With a cake that had a Mickey Mouse toppers and both women dressed in flowing white wedding gowns, the couple exchanged vows in a setting once reserved for a man and woman. Being the first, it seemed fitting that the two women were able to share their moment around the world as Disneyland is an iconic institution.
Not surprisingly, it was a picture perfect moment. Surrounded by Mickey Mouse and Minnie, the couple had a big smile posing for the cameras as the dream of getting married at the resort obviously came true.
As the image of the Disney Resorts around the world definitely focuses on family fun, it's interesting to see how positive the response has been for the gay marriage. Wishing the couple a happy life together, most people don't mind at all that Mickey Mouse attended the ceremony.
Photo Source: Twitter of Koyuki Higashi