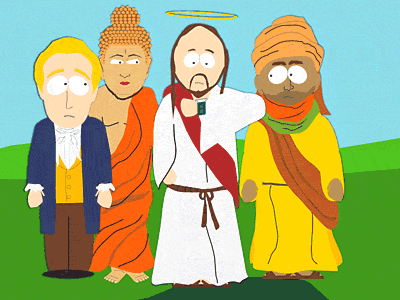 Controversy erupts for a controversial network as Comedy Central backs down after veiled threats from a Muslim organization, RevolutionMuslim.com, upset over South Park's depiction of the Islamic Prophet Mohammed in a bear suit in the show's 200th episode which poked fun at EVERYONE and EVERYTHING and also in the heavily BLEEPdED and CENSORED 201st episode.
The 200 and 201st episodes are also known as s14:05 and s14:06 as in Season 14 episode 5 and 6.
The 201st episode's online premiere has been indefinitely put on hold because the South Park creators are trying to fight to have it's uncensored version shown.
A photo of Mr. Van Gogh (a Dutch filmmaker assassinated in 2004 after his film about the violence faced by Muslim women, 'Submission', aired) was posted on RevolutionMuslim.com with the following comment:
"We have to warn Matt and Trey that what they are doing is stupid and they will probably wind up like Theo Van Gogh for airing this show. This is not a threat, but a warning of the reality of what will likely happen to them."
Following the post was an article which listed South Park creators, Mr. Stone and Mr. Parker's private home addresses.
Mainstream Muslims are appalled by the reaction of RevolutionMuslim.com and feel it only reinforces current stereotypes of all Muslims. General secretary of the Muslim Alliance in North America, Ihsan Bagby said, "What is clear is national Muslim organizations … reject the threat of violence against anybody voicing their free speech…" and due to the nature and context of 'South Park's satire '"it's a waste of time" to get offended.
I haven't seen the censored 201st episode yet but I'm sure it will be ON DEMAND soon through our Comcast subscription. I have seen the 200th episode and it's just silliness. Here's a summary of what happened.
~ South Park Elementary takes it's students to the Fredrick's Fudge & Candies Factory where the boys see Tom Cruise working the assembly line, stuffing boxes with fudge and chocolate. Upon being asked if he's a "fudge packer," Tom Cruise is so upset he decides sue the entire town of South Park.
Tom Cruise gathers together a large group of celebrities who've suffered humiliation at the hands of South Park residents and threatens to file a class action lawsuit. Some of the celebrities are Rob Reiner, Mel Gibson, Brittany Spears, and Tiger Woods. Eric Cartman joins the group with his lipstick wearing fist which is suppose to be Jennifer Lopez and of course the group of celebrities believes it is indeed Mrs.Lopez because it's a cartoon.
Upon pleas from Stan's father for Tom Cruise to drop the lawsuit, Cruise makes a deal that if South Park can deliver the Islamic Prophet Mohammed to him and the other celebrities then they would drop the lawsuit. The real reason the celebrities want to meet Mohammed is because they want his GOO which they feel allows him to be the one diety which cannot be made fun of and is invincible to satire.
Meanwhile, Eric Cartman and his hand (who's actually Mitch Conner pretending to be Jennifer Lopez) construct a plan to steal Mohammed and then extract his GOO and sell it money. Mitch Conner is a con-man fist thing.
So after traveling to the SUPER-BEST-FRIENDS lair which houses all the important religious leaders: Mohammed, Moses, Jesus, SeaMan, Buddha, Joseph Smith, Moa Tsing and Krishna. Stan is able to convince Mohammed to come to South Park and meet the celebrities but only if he is driven in the back of a U-Haul and never shown.
There is some discussions about how to get Mohammed from the U-Haul to Tom Cruise without showing any part of him at all, and a Bear Mascot Suit is the answer. So Mohammed gets dressed up as a Bear Mascot and just when he is about to go enter an awaiting car to go to Tom Cruise, the car is bombed because a second group wants Mohammed also. The second group is comprised of all red-heads "Gingers" who also want Mohammed's GOO.
Out of fear the people of South Park decide to send Mohammed to the Gingers instead. The celebrities are so upset by this turn of events they unleash a Barbara Streisand robotic Godzilla monster (which shoots steam via it's nipples) on South Park.
Eric Cartman's fist gets into an argument with him that results in the revelation that Eric's been lied to by the men of South Park and that his mother is actually not also his father (a lie he'd been told when he'd asked who his real father was). So Cartman sets off to Mr.Garison's to talk to Mr.Hat.
The episode ends with the town facing imminent destruction.

Will both the Gingers and the celebrities destroy South Park?
Does Cartman discover who his father really is?
Episode 201 answers these questions and is heavily censored.
 
 
*********************************************************************
photo credit: http://ken-jennings.com/blog/wp-content/uploads/2007/05/southpark.gif
*********************************************************************
South Park's 200th, litigious celebs and Mohammed: Matt Stone and Trey Parker Interview:
 
 
Mohammed was shown on South Park in 2007: CLIP BELOW:
 

'South Park' Episode Prompts Death Threats: