There's little doubt of LeAnn Rimes' singing talent, but once again, her judgment seems a little off! Rimes tweeted that she was flying out to Seattle for a concert and at the last minute, decided to bring her so-called 'bonus boys', aka her stepsons, along. LeAnn's husband, Eddie Cibrian, was also in tow. The couple made news back in 2009 when they had an affair while both were still married. Cibrian, 39, was married to The Real Housewives of Beverly Hills star, Brandi Glanville, the mother of his two sons. Cibrian and Rimes married in 2011 and Rimes dubbed herself Mason and Jake Cibrian's 'bonus mom'.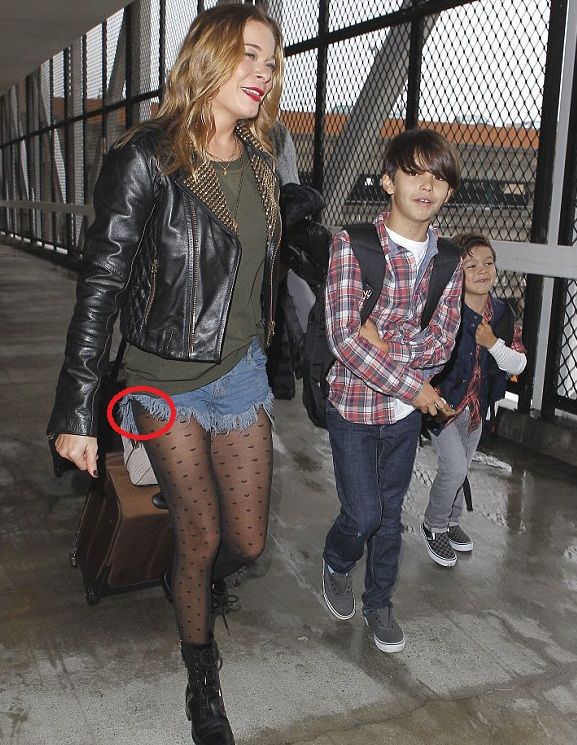 Rimes' journey as 'bonus mom' has been riddled with rude comments about the boys' mother, inappropriate actions and sometimes, downright bizarre behavior. Her appearance at LAX yesterday fits into both the 'inappropriate' and 'bizarre' categories! With Cibrian dressed like an elderly grandfather, dragging luggage behind her and her 'bonus boys' along side, 30-year-old Rimes' outfit was definitely not mom material! Her t-shirt and leather jacket looked cute, but she paired it with micro-short denim cutoff shorts with sheer dot patterned tights underneath and (amazing) ankle boots. Her shorts were so high cut that the 'panty' of her tights was showing!
Rimes tweeted, "'Off to Seattle with the 3 cutest boys ever! It was a last minute family trip, the best kind!! #tour'."
Was it so last minute she didn't have time to throw on a skirt or a pair of jeans? C'mon LeAnn! Some of the pix of the boys are super cute, it looks like the photographers were making the boys crackup! In others, once LeAnn is past security, she keeps looking over at the photogs…wouldn't wanna miss a shot! In one photo, young Mason looks embarrassed while Jake is all smiles, of course that could have just been a reaction look to something a paparazzo said. Still, can you imagine what these boys must endure at school? If LeAnn Rimes wants to play mommy, she better learn one of the Top Ten Mom Rules: Thou shalt not humiliate your children/bonus children by dressing like a teenage hooker!
Photo credit: x17online
© Margie Wilson-Mars 2012