Who knew Elizabeth Taylor aka Dame Taylor, had a gay lover? Family members say he stands to inherit her cash when the will is read soon. Tabloids are referring to her longtime manager, Jason Winters, as a "romantic interest" of the Cleopatra star.
Elizabeth Taylor's Death: Who is Jason Winters?
He's tall, dark, and handsome, and is known as Taylor's manager. But Jason Winters, Miss Taylor's junior for 28 years, is thought to double as her lover, the one who was rumored to be Miss Taylor's ninth. The late actress was married 8 times.
Winters, a co-owner in a very successful talent agency in California, was said to have been more than a manager to Taylor. However, he runs his business with his partner, and is said to be "100-percent gay." Is he mentioned in the Will? More on that later.
Aside from his sexuality, Jason Winters was with Dame Taylor throughout some tumultuous years following the divorce of her last husband, Larry Fortensky, in 1996.
According to insiders, he counseled her through the ensuing depression, and even got her to feel good about herself again. After his sincere intervention and endearing friendship, Liz Taylor began to dye her white hair to black.
Following that, she was always seen looking even more striking and confident, and wore her jewels and signature designer clothes well.
She and Winters met in the late 1990s through their mutual support for AIDS awareness.
Elizabeth Taylor's Death: The Will
The fortune of Elizabeth Taylor is estimated to be worth £360?million or approximately 580 billion US dollars. And according to sources, Jason Winters will pledge it to her AIDS charities.
Bear in mind that Dame Taylor is survived by four children, all of whom may contest the reading of the Will that includes Jason Winters as a possible executor. ItÂ's a lot of money, and often times, nasty battles ensue in the wake of a wealthy person's death.
Taylor was not rumored to be without a sound mind, but with the amount of money at stake and future projections of $150M per year, it only takes a savvy attorney to bring up the challenge. Hopefully, the wishes of the beloved Cleopatra actress are honored.
Taylor died on March 23, 2011 from congestive heart failure, along with a number of other contributing factors listed on her death certificate.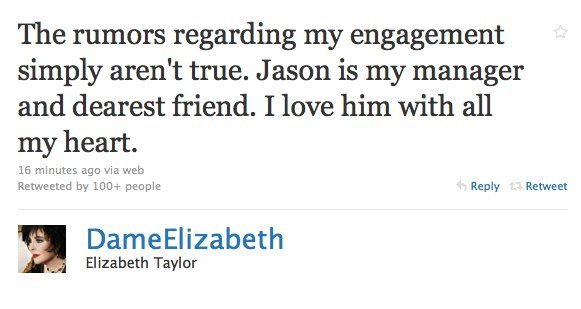 Image credit: Huffington Post via Twitter
Follow Brad Bechler on Twitter and Facebook for more daily trending news.