The world's largest McDonald's is being built in London for the 2012 Summer Olympics. Measuring about half the length of a football field (32,292 square feet), it is the biggest restaurant ever built by the fast food chain that's not exactly known for providing the food of champions.
Why is this monster McDonald's becoming a reality? For the ninth year in a row, Mickey D's is a top sponsor for the Olympic Games and will amazingly be the only brand of food in the Olympic Park and Athlete's Village. Hopefully, Olympic fans love Happy Meals.
Providing jobs for 2,000 people who are estimated to sell more than 50,000 Big Macs and 180,000 French fries during the short six weeks that the restaurant will be open, the world's largest McDonald's will not only be able to boast that it is huge. It will also be "green." The 1,500 seat restaurant will be built from recyclable materials.
And attempting to counteract its not-so-great image of making what some believe is unhealthy food, McDonald's is pushing a new large-scale fitness campaign to help children stay healthy. Providing "activity toys" in Happy Meals which will count the number of jumps and steps a child makes will be one way the new campaign aims to keep kids on the go and work off the cheeseburger they just ate.
McDonald's Global Chief Brand Officer, Kevin Newell, feels that McDonald's role in the 2012 London Summer Olympics is a great opportunity to kick-off the new fitness campaign.
"…And the Olympics will set us up very nicely to launch a few things around children's well-being."
How do you feel about McDonald's being a sponsor of the Olympic Games and the new fitness campaign? Is this "super sizing" of McDonald's a little excessive?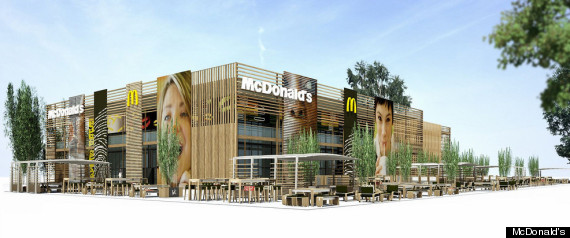 Photo Source: Huffington Post