Having an MVP at quarterback makes playing defense in the NFL easy. Still the Green Bay Packers can't hide forever behind their best player. Given their problems at safety, could they make a surprise move for Jairus Byrd of the Buffalo Bills?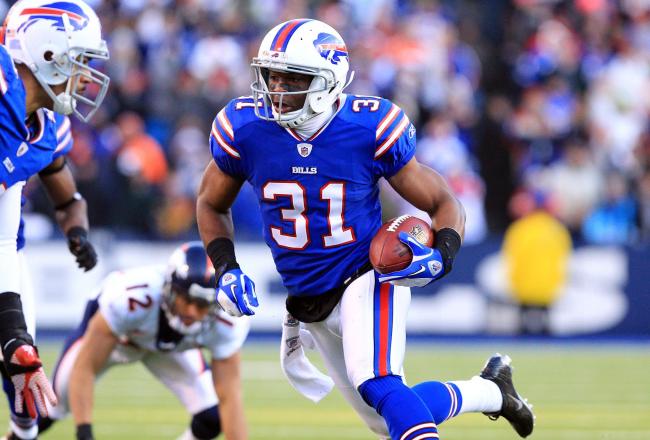 Byrd and Leodis McKelvin two bright spots for shady Bills
Despite their not-so-bad record the Buffalo Bills have earned few believers through the first half of the NFL season. Their defense ranks near the bottom in the league in every category while their once potent offense seems to have lost its identity. In fact, the team ranks 29th in the latest power rankings right next to the Jacksonville Jaguars and Cleveland Browns. Not the best company for a team that spent $100 million in the off-season to improve on defense. Yet in the midst of all the futility, fans had a small reason to celebrate. Two Bills players made the midseason All-Pro team. Return man Leodis McKelvin averaged among the league's best with 29.8 yards per kick return and 19.5 yards per punt return. His teammate, Jairus Byrd, was by far the most deserving the honor. The young safety emerged in his third year as a true ballhawk. He has three interceptions and three forced fumbles in eight games. Those stats are even more impressive since they come on a bad defense. Either way it's good news for Byrd who will likely parlay a good year into a major pay raise when he hits free agency next season.
Aaron Rodgers covering up Charles Woodson and other injuries
One team hurting at safety are the Packers. They already lost All-Pro Nick Collins to a neck injury that forced him off the roster. Without a suitable replacement they moved defensive captain Charles Woodson from corner to safety. He filled the role well enough up until he got hurt too. In truth, Green Bay can't lean on Woodson forever. Their defense has a history of injury issues. The reason no one talks about it is they find ways to win anyway, largely thanks to league MVP Aaron Rodgers. His 25 touchdown passes have made life easy for a defense playing hurt everywhere. It stands to wonder what will happen if Rodgers goes down. Given the 29 sacks he's taken already, that is a real possibility. Safety is one spot the team can't afford to ignore. The draft is the usual place if they choose to upgrade, but a player like Byrd doesn't come around too often. His athletic skill set fits the defense of coordinator Dom Capers perfectly. Provided the salary cap issues get addressed it could become an off-season steal.
Jairus Byrd never gets enough credit with the Buffalo Bills. That may change if he left to join the Green Bay Packers. With Charles Woodson winding down, adding the young safety almost guarantees a bright future for the landmark franchise.
Photo Credit: Kevin Hoffman